All up, the sardonically titled Art of Divorce sale raised more than $3.7 million.
That wasn't the full extent of his collection, though. We know he has at least a dozen works by Clarice Beckett because he lent them to the Art Gallery of South Australia for its retrospective of her work last year. Auctioneer Geoffrey Smith, who counts Crowe as a friend, says the actor has around 30 works by the Melbourne-raised painter, whose record price at auction is more than $330,000.
In the film, the art expert burglar Styx (Benedict Hardie) marvels at Foley's impressive collection. Standing in front of a group of soft-tinted tonalist paintings he declares: "Clarice Beckett, genius. We can move these in a heartbeat".
Those paintings were real, says Crowe. "On a cyclical basis [during filming], the Clarice Becketts, the John Peter Russells, they would arrive, they would be on the wall."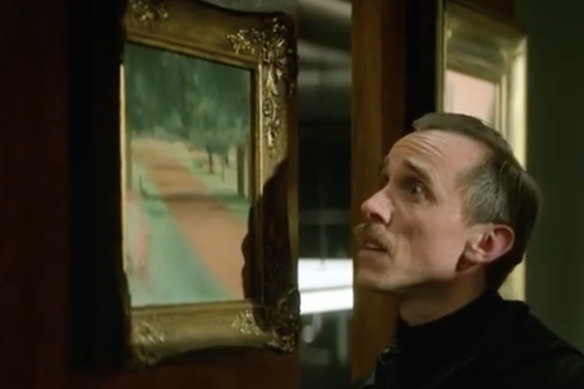 As the thief moves through the house, his eye is caught by three small works from the hugely influential 9 by 5 Impression Exhibition staged in Melbourne in 1889. There, in close-up and in gilt frames, are paintings by Tom Roberts, Arthur Streeton and Charles Conder. "You've hit the trifecta," says Styx. "Now you're looking at $3 million at auction, easy."
According to Crowe's claim that any painting seen clearly is genuine, these are the real deal.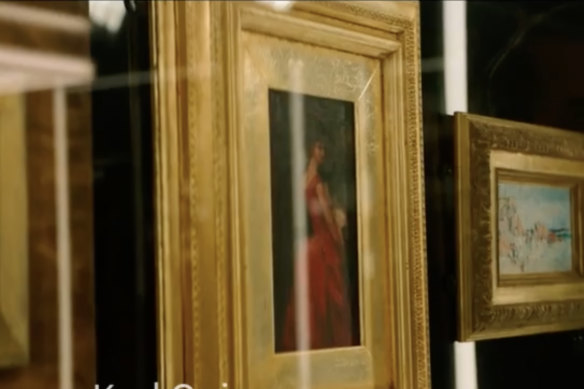 Moving to another work, Styx proclaims: "William Dobell, Woman in Restaurant, last sold for $939,000."
Previously owned by Joanna Dusseldorp, widow of Lendlease founder Jack and grandmother of the actress Marta, that work was indeed sold for that price (including buyer's premium) at auction three years ago. It is in private hands, though Crowe is not known to have been the purchaser.
Loading
The thief moves on, appraising a John Peter Russell – "so rare … this is real f—ing money" – and a Streeton. But none of it can hold a candle to a painting of a couple of card players. "That's a f—ing Cezanne. That's a $200 million item. Who are we dealing with here?"
Who indeed?
Are these works all the real thing, as Crowe claims? If so, how many of them are his? Did some come from collector friends? Were others lent out for the shoot by one of the country's largest public institutions?
(Cezanne's Card Players is presumably a copy – four of the five works the French Post-Impressionist painted in the series are in public institutions outside Australia, while the other is reportedly owned by the royal family of Qatar.)
In a statement, a spokesperson for the Art Gallery of New South Wales said the institution "didn't lend artworks out of the gallery, however Russell did spend time filming in the art gallery's spaces".
In response to follow-up questions, Crowe's representatives reiterated that "all of the art you can see clearly in the movie is real.
"Russell did use paintings from his own collection, however he doesn't state which ones," the statement continued. "The Art Gallery of NSW did loan pieces for the production as well."
#story #art #Russell #Crowes #film