SUMMERVILLE — Police will soon have a new device to help them in what Police Chief Douglas Wright described as an uphill battle when it comes to identifying and investigating drug crimes in the community.
The town purchased TruNarc, a handheld device that officers can use in the field to analyze and identify fentanyl and hundreds of other narcotics. The device costs $34,415.12 and was paid for through federal funds provided to the police department, Wright said, including a $14,453 grant from the Department of Justice. 
The device works by scanning directly through plastic or glass for most drug test samples, according to information Wright provided from ThermoFisher Scientific, the company that produces TruNarc. Wright said that by not having to remove substances from their container before scanning them, officers are safer from drugs like fentanyl that in some cases can cause overdoses if accidentally touched or ingested.
Major Frank O'Neal,who oversees the South Carolina Law Enforcement Division's Narcotics, Alcohol and Vice Services Department, described TruNarc as a little bigger than a cell phone with a lens like a camera phone that does the scanning. It can identify narcotics "within a matter of seconds," he said.
SLED has four TruNarc devices, one each in the Lowcountry, Midlands, the Piedmont and Peedee regions. O'Neal said SLED began purchasing them around five years ago as fentanyl became more prevalent in South Carolina.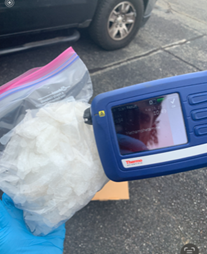 "It worried us a lot because we were coming in contact … not just by touching the drug but if it became airborne," O'Neal said. "So … law enforcement safety, our agents' safety, was the primary reason that we decided to make those purchases."
In Summerville, officers are seeing increasing amounts of fentanyl, often laced into other drugs like cocaine and methamphetamine, Wright said. Officers are having to use Narcan to revive overdose victims almost every day.
That's the reason Summerville opted to purchase the equipment as well, he said.
"Almost anything that we see that comes into the police department that is a powder-like substance has fentanyl in it," Wright said. "Obviously grains of fentanyl can kill somebody, so we want to have limited exposure to our police officers."
SPD and Dorchester County Sheriff's Office have a narcotics team, which also has Drug Enforcement Administration members on it. But that team works primarily on longer investigations, said Wright. It's patrol officers who are finding drugs every day in routine cases, and it's those officers who will be mainly using TruNarc.  
"As far as road officers, they're the ones that are seizing it every day," Wright said. "They're taking it, you know, when they arrest people for shoplifting. People have it in their pockets."
In addition to being safer for officers, it's more efficient. Without TruNarc, police must send all but the most common narcotics like marijuana to forensic labs outside the department. Getting results can take weeks.
TruNarc isn't commonly used by most smaller law enforcement agencies, though some — including North Charleston Police Department — have one. O'Neal said agencies often can't afford them — even SLED's most recent two were purchased with federal grants.
Fentanyl and other opioid use is increasing not just in Summerville but throughout the state. Officials from the S.C. Department of Alcohol and Other Drug Abuse Services said earlier this year that opioid overdose deaths increased by more than 20 percent statewide in 2021. 
Because fentanyl is so potent and so addictive, O'Neal said, drug manufacturers can make more money selling less of it. They also consider drug overdose deaths from fentanyl risks willing to take, he said.
"They want people to become addicted, whether they know they're becoming addicted or know what they're using or not," he said. "You can give somebody methamphetamine laced with fentanyl or cocaine laced with fentanyl, they're also going to become addicted to that drug fentanyl."
#Summerville #purchases #35K #handheld #narcotics #analyzer #News