Key events
2 mins: France on top from the kick-off. They enjoy 45 seconds of possession before Australia get a touch, and that includes Dembele skinning Behich down the right and clipping a cross over from which Mbappe earns a corner. The set-piece is flicked on dangerously but the Socceroos clear. Ominous start from the French.
Here we go, the defending champions are off and running.
"Let's get down to business" booms over the speakers as the players huddle. This is the real sound of Qatar, isn't it?
Anthem time. France already with the early advantage.
Here they come, out of the tunnel, France in their beautifully crafted tricolour uniform of dark blue, white and red. Australia alongside them in gold jerseys, green shorts and white socks.
Conditions:
Have a guess? Go on. That's right, it's warm and dry in Al Wakrah with temperatures in the low to mid 20s. Fans and players will be cooled by the in-stadium air conditioning.
"As someone who grew up on Tim Cahill's reliable World Cup magic, and tries hard to forget the 2018 version of the Socceroos, I think the best I can expect from the boys is some fighting spirit and to frustrate the world champions for as long as we can contain them." Ezra Finkelstein there with an email that I reckon sums up the feelings of many Australian fans.
On Australian TV the two lead analysts are former internationals John Aloisi and Craig Foster and they have just delivered an excellent tactical package detailing Graham Arnold's game plan. Expect a very low block, long diagonal balls to Duke standing in one of the channels to allow for his supporting attackers to feed off him, and a reliance on Souttar from set-pieces.
In case you're just waking up in Australia and easing into the action, a quick recap of what's already happened in Qatar. In short: six teams, three goals, one penalty save, and the upset of upsets.
Simon McMahon has got in touch with some tangerine pride, telling me "Australia's Aziz Behich joined Dundee United in the summer and will tonight become the first current United player to start a game in the World Cup finals for, well, a wee while probably. It's not quite Malpas, Gough, Narey, Bannon and Sturrock at Mexico 86, but still. Harry Souttar also started his professional career at Tannadice, so go United, and go Australia!"
The Socceroos' links with Scotland go deep, very deep.
Referee: South Africa's Victor Gomes will blow the whistle today. He oversaw the 2021 Africa Cup of Nations final between Senegal and Egypt, and received plaudits for reporting bribes in a CAF Confederation Cup match.
Also worth noting is fourth official Salima Mukansanga, one of the six female officials at this tournament.
France and Australia and sport, you say? That can only mean Richie Benaud chewing the fat in Île-de-France, wearing his iconic cream/bone/white/off-white/ivory/beige jacket. And some elephants.
Of course it's only fair to share some France content as well.
Emma Kemp is our Australian eyes and ears on the ground in Qatar and she's been busy filing reports on all things Socceroo.
There are fewer household names in Australian gold but Graham Arnold has named an experienced spine starting with former Arsenal goalkeeper Mat Ryan, Stoke City centre-half Harry Souttar, Celtic midfielder Aaron Mooy, and the combative, line-leading Mitchell Duke.
Quite how this XI threatens such a formidable opponent remains to be seen but expect set-pieces to be important. 198cm Souttar has six goals in his 10 internationals and he will be the focal point whenever Australia get a corner or attacking free-kick.
France's injury woes have been well reported but even without, deep breath: Paul Pogba, N'Golo Kanté, Karim Benzema, Rafael Varane, Presnel Kimpembe, and Christopher Nkunku, Didier Deschamps has named an imposing starting XI.
He's gone for a youthful and attacking 4-2-3-1 set-up with pace to burn. Good luck keeping up with Dembele and Mbappe on the break.
Tonight's match offers our first glimpse of Al Janoub Stadium in the city of Al Wakrah, a smidgen south of Doha CBD. The ground holds 40,000 fans and was designed by the late Zaha Hadid.
"The Qatari stadium's resemblance to a woman's private parts may be unintentional, but I for one applaud it," wrote Holly Baxter a few years ago. "With its shiny, pinkish tinge, its labia-like side appendages and its large opening in the middle, the supposedly innocent building (based upon the design of a traditional Qatari dhow boat) was just asking for trouble."
For her part, Hadid dismissed such suggestions as "ridiculous" and "embarrassing".
I mean…
Preamble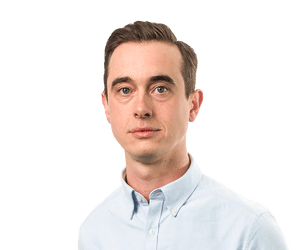 Jonathan Howcroft
Hello everybody and welcome to live coverage of the eighth match of the 2022 World Cup, France v Australia from Al Janoub Stadium in Al Wakrah. Kick-off in this group D clash is 10pm local time (6am AEDT/7pm GMT).
For the second successive tournament France and Australia open their campaigns against one another. In Kazan four years ago the eventual champions ground out a 2-1 victory with a late deflected winner. They will expect a more routine three points tonight.
There will be few more striking mismatches all tournament, on paper at least. France are holders of the World Cup and winners of the 2021 UEFA Nations League. Even without some notable absentees Les Bleus boast a squad as deep and talented as any in the competition, with a long-serving coach able to blend a side featuring proven campaigners and the brightest prospects in the game.
By contrast, Australia are ranked 38th by FIFA and required a 20-game odyssey to qualify, one ending in a penalty shootout victory over Peru. Only four members of Graham Arnold's squad have more than 50 caps (half the group have 10 caps or fewer), and only two are signed to clubs in any of Europe's top-five leagues. "I don't know any of the players individually," Liverpool's Ibrahima Konaté said on Sunday.
France will look to Kylian Mbappé for inspiration, a man valued in the hundreds of millions of dollars with proven World Cup pedigree; Australia to Celtic journeyman Aaron Mooy, one of six Scotland-based Socceroos.
"You can say our players aren't playing in the top leagues in the world and all their players are," Arnold said this week. "But it's about team spirit, it's about connecting 11 players – and 26 players – together in a family environment, making sure they're mates and they've got each other's backs. That's when you can get special results."
But as guaranteed as the result looks ahead of time it still has to be earned, and France know from bitter experience how a World Cup campaign can unravel – especially as defending champions. Besides, it suits Arnold's character to tap into the "little Aussie battler" trope. "We have got the Aussie DNA," he said. "We will go out there and have a fight, kick and scratch, do whatever is required."
There's an hour or so before kick-off so feel free to spend that time sending me an email. Or, if you haven't yet jumped ship, tweet me @JPHowcroft.
#France #Australia #World #Cup #live #World #Cup